AIOps Perspectives Report
We're delighted that Synaptek, our Digital Innovation Division, was invited to contribute to the AIOps Perspectives report from Digitalisation World.
Read the engaging Q&A with our CIO, Karl Nicholson, and our strategic partners, Zenoss. Also, hear from other leaders in the AIOps field about why AIOps is the future of IT Operations.
In this 103 page report, you'll discover how AIOps simplified the complexity in modern IT environments. You'll find answers to the questions IT leaders need to be asking which enable them to choose the right solution for their business.
You'll also discover how AIOps and intelligent automation combine to transform MeanTime To Resolution, reducing MTTR by over 100%, mitigate against the risk of human error and automate remediation to keep your systems online and your customers happy. So grab a coffee and take a read.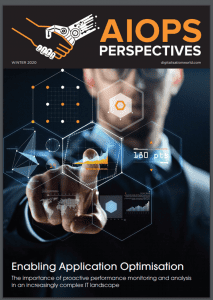 Book a demo of our RoboNOC solution: the fusion of AIOps and intelligent automation
Book a demo
Get a copy of our FREE Automation Success Kit to get your automation strategy right
Download It Now