We are delighted to partner with Birmingham Tech to launch 'The Automation Conversation', the official podcast of Birmingham Tech Week.
---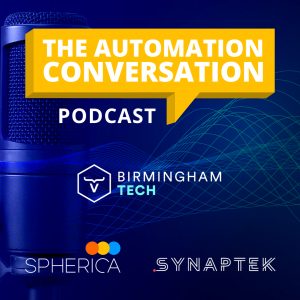 Spherica Business Solutions partners with Birmingham Tech to launch "The Automation Conversation", the official podcast of Birmingham Tech Week.
PRESS RELEASE
Birmingham, England DATE: 22nd September 2021
Spherica and its digital innovation division, Synaptek, are delighted to announce a collaboration with Birmingham Tech, which sees them host this year's official Birmingham Tech Week podcast, The Automation Conversation.
This engaging podcast series brings together influential guest speakers and inspiring collaborators to share ideas, question the status quo and simplify the complex topic of business process automation. Listeners to the series will hear expert views that dispel some automation myths, explain the benefits of the complex technologies available and provide practical tips for getting your automation strategy right. The podcast will also help extend the reach of the engaging topics being discussed during next month's Birmingham Tech Week.
Birmingham Tech Week is run by Birmingham Tech CIC, a not-for-profit organisation (Community Interest Company), ensuring money raised through sponsorship goes towards helping build the West Midlands' tech ecosystem. This prestigious event is the UK's largest regional technology event, with over 5,000 people attending over 100 sessions. This year it is being held in person as well as online between the 11th-15th October, with the opening ceremony hosted at Millenium Point, Birmingham. The event boasts speakers and sponsors from the world's best brands and is designed to inspire visitors and cement the West Midlands as a global technology hub.
Yiannis Maos, CEO of Birmingham Tech, explains the thinking behind the podcast series, commenting
Automation is set to change the way we work and will define what jobs will be required in an ever-changing world. We're delighted to bring together experts and thought leaders to debate the topic and create an open dialogue for action in this thought-provoking podcast series.
Spherica and Synaptek were natural partners to host the podcast because they've been driving the automation conversation within their industry for some time and have demonstrated their commitment to helping strengthen businesses by putting technology to work. We're excited to get The Automation Conversation going in support of this year's Birmingham Tech Week.
The Automation Conversation podcast series is hosted by Karl Nicholson, Chief Information Officer at Synaptek, a division of Spherica that specialises in intelligent automation. Karl is also this year's winner of the Birmingham Chamber of Commerce Future Face in Technology and Innovation Award 2021 so brings a wealth of experience and thought leadership to the conversation.
Driving a technology-led recovery
Automation is high on the agenda for many organisations as we adapt to the impact of rapid digital transformations and the new future of hybrid working. But there are so many different automation technologies available that knowing where to start with an effective automation strategy can be a minefield. Simplifying the automation conversation is key to identifying the best strategy that will increase productivity, enable collaborative working and free up employees to focus on the things they do best, while also reducing the ongoing cost of IT.
Karl Nicholson, CIO at Synaptek, explains,
Automation has quickly risen to the top of strategic agendas as organisations grapple with the impact of accelerated digital transformations, dispersed workforces and the ever-growing cyber security threat. The challenge many organisations now face is how to ensure the benefits of their technology investments are not short-lived.
Automation is a complex beast and it is relatively easy to be swayed by the quick-fix solutions that some automation technologies offer, but without a robust, goal-orientated strategy, this will not secure long-term recovery and success. We're determined to break down the barriers to automation success and simplify the complexity of the options available to help organisations get their strategy right and avoid costly mistakes.
Steve Jennings, Managing Director at Spherica, an automation-first Managed Service Provider and sponsor of the podcast series, agrees,
We are very proud to be able to support the incredible work of Birmingham Tech by hosting this fun, honest and engaging podcast series where the best in the industry can share their insights. From cyber security to employee experiences, the benefits of automation are far-reaching. We want to help guide Boardroom conversations in the right direction to ensure investments are made in strategies that will better prepare organisations to respond to opportunities and threats quickly and cost-effectively. This podcast gives us a fantastic platform to lead these conversations.
Simplifying the automation conversation
In the first episode of this informative podcast series, Karl is joined by the inspirational Jessica Figueras, Founder of Hither Strategy, Vice-Chair of the UK Cyber Security Council and recently named in Computer Weekly's Most Influential Women in Tech!
In this engaging 40 minute session, Jessica shares her unique insights into why the automation conversation needs to be prioritised to overcome the barriers to recovery and growth that organisations face in the new future of work. The conversation delves into how automaton is essential for protecting business continuity, combating cyber security threats and enhancing customer and citizen experiences. There's also a fun, quick-fire Q&A designed to "jargon-bust" common automation technology terms and to explain the automation continuum, from Robotic Process Automation (RPA) to hyperautomation.
It's a brilliant launch episode that is not to be missed! Click here to listen now.
To sign up to receive notifications of #TheAutomationConversation podcast series and receive a free Automation Succes Kit, visit www.spherica.co.uk/resources.
To register to attend Birmingham Tech Week, visit www.birmingham.tech/tech-week-2021
Register today to be the first to hear about 'The Automation Conversation' podcast series and receive your free Automation Succes Kit!
REGISTER HERE